Similar to the vibrant Reykjavik, Icelandic architecture is a mixture of different design influences and styles, ranging from the Viking Era and resourceful construction of turf houses to the aesthetic use of corrugated iron, all the way up to modern cultural developments, urban neighbourhoods and skyscrapers. In future plans, the city focuses on densifying, instead of expanding.
Standing by the waterfront, the famous Harpa Concert Hall by Danish architects Henning Larsen was constructed between 2007 and 2011. The notable façade was designed by Olafur Eliasson, the shapes of the glass inspired by the "Gullinfang"-design by the late "mad scientist" architect Einar Þorsteinn Ásgeirsson, a long-time collaborator of Olafur. It is the home of the Icelandic Symphony Orchestra and Opera and serves as a host to many cultural events throughout the year. Harpa has gathered numerous awards for its design and architecture, including the Mies van der Rohe 2013 Award and the Best Nordic Public Space 2011 award.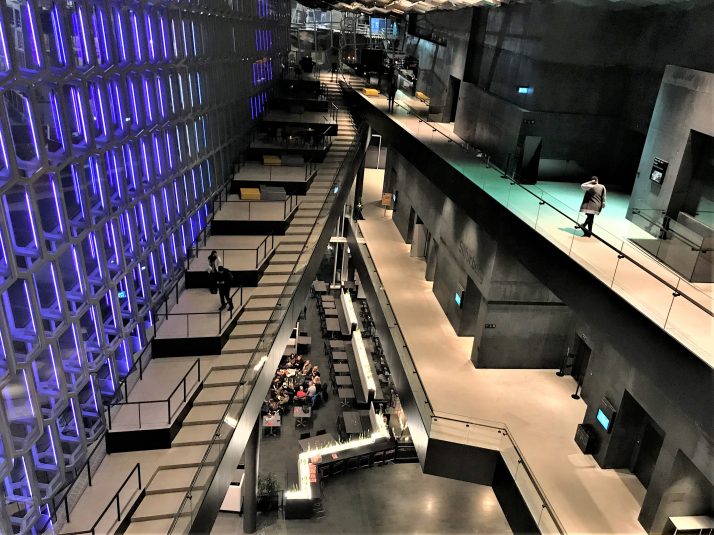 Arguably the most prominent architectural site of Reykjavik is the Hallgrímskirkja Lutheran church. Standing 74.5 meters high, making it the largest church in Iceland. Designed by the state Architect Guðjón Samúelsson, it is an example of Expressionist architecture that took 41 years to build: construction started in 1945 and ended in 1986.
Reykjavik is also home to the Nordic House, designed by Finnish architect Alvar Aalto. The Nordic House hosts a variety of Scandinavian- themed cultural events and exhibitions, as well as an art library, since 1968.
Next to it is the Veröld  – House of Vigdis, the Vigdís Finnbogadóttir Institute of Foreign Languages, which is the newest building of the University of Iceland, inaugurated in April of 2017. Andrúm studio has been nominated for the European Union Prize for Contemporary Architecture – Mies van der Rohe Award 2019, for their design of Veröld – House of Vigdís.
Other exciting projects include a pair of red pyramid bridges for pedestrian and cycle use over the river Elliðaár by Architects Teiknistofan Tröð, the new Landsbankinn HQ under construction and interesting housing projects, both in small scale and high-rise developments. Reykjavik also offers exciting interior design choices in many of its eccentric restaurants.
We highly recommend spending an extra day in Iceland and experiencing it's powerful nature; we can organize a day that combines the breathtaking views of Pingvellir National Park, Gullfoss Waterfalls and Geysir hot springs, or the majestic views of the South Iceland Black Sand Beaches and see the basalt columns that inspired much of the Reykjavik architecture. Both can be crowned off with a relaxing visit to the world-famous Blue Lagoon.
If a full-day seems too much for your schedule, we can also incorporate a few hour boat tour into your program, allowing you to view the Reykjavik cityscape and surrounding nature, and maybe even catch a glimpse of one of the 23 whale species found in the surroundings of the city.
Text: Kiira Halinen, Producer